Barbara Martin



Born

June 1943

Origin

Detroit, Michigan

Genre

R&B, Pop

Occupation(s)

Singer (Retired)

Instrument(s)

Vocals

Active Years

1960-1962

Label(s)

Motown

Associated acts:
Barbara Diane Martin-Richardson was born in 1944 and passed away on March 4, 2020. She is best known for replacing
Betty Mcglown
, and for being one of trhe founding members of The Supremes. When Betty Mcglown lefted the group, she was replaced by local youth, Barbara Martin. With Martin in the lineup, The Primettes signed with Motown, with one exception, they would have to change their name. Florence Ballard picked the name "Supremes", evenb though mary and Diana (Diane at the time) thought it was too masculine for a female group. Despite that, The Supremes signed to Motown. After a few modest singles, The Supremes worked as back-up singers & hand-clappers for Motown's more successful Acts. In 1961, the group recorded
After All
, which is known for the only song that Barbara sings lead, in which she sings the Bridge, while the other three sing verses. After All was canceled in favor of the radio hit
Buttered Popcorn
, and it was not released for many years after.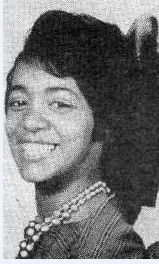 Barbara also has brief Ad-Libs in two other songs, The Tears, which she sings the first "the" and The Boy that Got Away, which she does the count-down at the beginning, and she holds a few notes longer near the end. In October 1961, Barbara became pregant, but she worked things out with her husband, and stayed in the group. According to The Lost Supreme, Diana Didn't want Barbara in the group because she was pregnant, and she thought it was bad for their image, so with having to deal with all of the troubles, Barbara left the group in Spring 1961. Even though Barbara sang on the Supremes early singles, and most of the tracks featured on their first album, she is not pictured on the album because she was noticeably pregnant at the time of the photo-shoot. Barbara never recieved any royalties from motown after 1961.
Lead Vocals
Edit
"After All" - Not Featured on Meet the Supremes. Barbara sings lead on the Bridge. It was 
"(He's) Seventeen" - Barbara Leads the Spoken Interlude.
"The Boy That Got Away" - Barbara Leads the countdown at the Beginning. Not Featured on Meet the Supremes.
"The Tears" - At the beginning of the song, each member sings "the", with Barbara singing the first. - This was also not featured on Meet the Supremes.
Community content is available under
CC-BY-SA
unless otherwise noted.