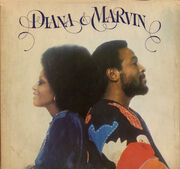 Diana & Marvin is a duets album by Diana Ross and Marvin Gaye. The album was released on October 26, 1973 by Motown Records.
Album Background
Edit
The recording sessions for the album took place in 1972 and 1973 at Motown Recording Studios in Hollywood, California.
The initial plans to make the duet album began as early as 1970, but due to Marvin being in a personal lull following the death of Tammi Terrell, Motown failed to bring them together and instead focused on Diana's emerging solo career, which didn't take off until the release of her cover of Marvin and Tammi Terrell's song "Ain't No Mountain High Enough" which became an international hit.
During that time, Marvin had made a promise that he would never again record a duet with a female performer because he felt they were cursed by him recording with them (Mary Wells abruptly left Motown following the end of the "Together" album and her career failed to recover; Kim Weston also abruptly left the label following the end of their "Take Two" sessions and Tammi Terrell's complications with a brain tumor made duets between her and Gaye difficult which later resulting in her death).
In mid-1971, Marvin returned to the charts with his album "What's Going On" which redefined his career and direction. Due to this, Gordy again approached him on doing a duet album with Diana.
Even though Marvin had insisted not to record any more duet albums, he later wrote that he felt the move to do a duet album with Diana would increase his popularity and confirmed that he was indeed what the media had labeled him around this time: "the prince of Motown." Marvin then agreed with Diana joining him in sessions.
Engineer Russ Terrana will later recall that the start of sessions met difficulty as Marvin, who had the habit of coming to recording studios late, came unusually early but was inside the studio smoking reefer.
Terrana said when Diana (still pregnant with her first child, daughter Rhonda) walked in, she immediately walked out, upset that Marvin was smoking reefer and told Gordy to stop him from smoking because of her pregnancy fearing her baby might die from the smoke.
When Gordy asked Marvin to put the reefer out, Marvin told him, "if I can't smoke, I can't sing." Eventually, Marvin did put the reefer out and Ross re-entered the studio with Gaye recording a cover of Wilson Pickett's song "Don't Knock My Love".
According to the album's later liner notes, Diana hated the song "Don't Knock My Love" and reportedly asked Marvin, "why are we recording this song?"
Later recording sessions proved to be difficult as Diana had her baby and laid low following Rhonda's birth. She had also finished work on the movie "Lady Sings the Blues."
Meanwhile, Marvin was busy on other projects putting future recording sessions in limbo. Due to this, Motown decided to do what they had done with Marvin and Tammi Terrell: record them separately.
Ross and Gaye ended up recording in different sessions with Terrana mixing the duo's vocals together. The album would feature the last Ashford & Simpson production for Motown, "Just Say, Just Say" even though the duo would later reunite with Ross on her The Boss album.
Marvin later said of the experience:
"I'm not sure I handled the situation very well. Musically I may have overplayed my hand. I was too cavalier. I should have done everything in the world to make Diana comfortable. After all, she was making movies, recording two or three albums a year, starring in her own TV specials, and about to have a baby. I could have been a little more understanding. But I went the other way. It's hard for me to deal with prima donnas. We were like two spoiled kids going after the same cookie..."
Tracklisting
Edit
Chart Performance
Edit