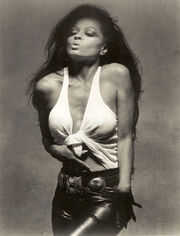 Diane "Diana" Ross (March 26, 1944) was an American singer/songwriter and actress from Detroit, Michigan. A founding member of "The Supremes," she joined the group when they were a quartet known as "The Primettes" in 1959, and remained with the trio until January 14, 1970 when she left to pursue a solo career. Her career included successful ventures into Broadway and Film. In 1972 she won a Golden Globe Award and an Academy Award nomination for her portrayal of Billie Holliday in the award-winning 1972 semi-biopic "Lady Sings The Blues." She won several American Music Awards, garnered twelve Grammy Award nominations, and won a Tony Award for her 1976-1977 one woman show, "An Evening with Diana Ross."
In 1976, Billboard magazine named Diana the "Female Entertainer of the Century." In 1993, the Guinness Book of World Records declared Diana Ross the most successful female music artist in history due to her success in the United States and the United Kingdom for having more hits than any female artist in the charts with a total of 18 number one records in the United States. Diana Ross has sold over 100 million albums worldwide. Ross is also one of the few recording artists to have two stars on the Hollywood Walk of Fame; one as a solo artist, and one as a member of "The Supremes." In December of 2007, Ross was honored with a John F. Kennedy Center for The Performing Arts Honors Award.

Early Life
---
Diana Ross, the daughter of Ernestine (née Moten) (January 27, 1916 – October 9, 1984), a schoolteacher, and Fred Ross, Sr. (July 4, 1920 – November 21, 2007), a former United States Army soldier, was born at Hutzel Women's Hospital in Detroit, Michigan. Ross said she didn't see her father until he returned from serving in World War II. Much has been made of whether her first name ends in an "a" or an "e". According to Ross, her mother actually named her "Diane" but a clerical error resulted in her name being recorded as "Diana" on her birth certificate. She always went by "Diane" at home and at school. Her high school yearbook listed her as "Diana" and as early as 1963, when The Supremes released their first album, she was listed in the liner notes as "Diana". At The Supremes' first Copacabana engagement in 1965, she introduced herself to the audience as "Diane", but later that year she started introducing herself as "Diana". Her intimates still call her "Diane".</p>
The Primettes ----
After living on Belmont Road in Detroit's North End for several years, Ross's family settled on St. Antoine Street in the Brewster-Douglass housing projectson Diana's fourteenth birthday in 1958. Ross aspired to be a fashion designer, and studied design, millinery, pattern-making and seamstress skills while attending Cass Technical High School, a four-year college preparatory magnet school, in downtown Detroit. In her late teens, Ross worked at Hudson's Department Store where, it was claimed in biographies, that she was the first black employee "allowed outside the kitchen". Ross graduated in January 1962, one semester earlier than her classmates. Ross' parents had a difficult marriage and separated when Ross was still in her teens. In 1959, Ross was brought to the attention of Milton Jenkins, the manager of the local doo-wop group The Primes, by Mary Wilson. Primes member Paul Williams convinced Jenkins to enlist Ross in the sister group The Primettes, which included Wilson, Florence Ballard and Betty McGlown. Ross, Wilson and Ballard each sang lead during live performances. In 1960, Lu Pine Records signed the group and issued the Ross-led single "Tears of Sorrow" backed with the Wilson-led "Pretty Baby". After winning a singing contest in Winnipeg, Manitoba, Ross approached former neighbor Smokey Robinson for an audition at the label with which he recorded with, Motown Records. The group garnered the audition and impressed Motown's CEO, Berry Gordy, Jr. (who arrived at the audition during the group's performance), but declined to work with the group due to their being underaged. Undeterred, the group would stand outside the label's Hitsville USA studios hoping to grab attention, eventually providing backing vocals & hand claps for many of Motown's more established artists. Meanwhile during the group's struggling early years, Ross earned pay in the day as Berry Gordy's secretary. She also served at the group's main hair stylist, make-up artist, seamstress & costume designer during this period. In 1961, having already replaced McGlown with Barbara Martin, the quartet signed with Motown Records under their new moniker, The Supremes, chosen by Florence Ballard, who was the only member to be present when the group was offered a name change. Both Ross and Wilson initially disliked the name, afraid they would be mistaken for a men's group (Ruby & The Romantics' original name was The Supremes) but the name stuck regardless.
The Supremes: The Early Years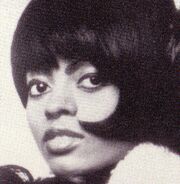 Following Martin's exit in 1962, the group remained a trio. In 1963, Ross became the group's lead singer, as Berry Gordy felt the group could "cross over" to the pop charts with Ross' unique vocal quality, and the Ross-led "When the Lovelight Starts Shining Through His Eyes" became the group's first Billboard Top 20 Pop single. The Supremes hit number one with "Where Did Our Love Go", a song rejected by The Marvelettes, and then achieved unprecedented success: between August 1964 and May 1967, Ross, Wilson and Ballard sang on ten number-one hit singles, all of which also made the United Kingdom Top 40.
Gordy removed Florence Ballard from the group in July 1967 and chose Cindy Birdsong, a member of Patti LaBelle and the Bluebelles, as her replacement. Shortly thereafter, he changed the group's name to Diana Ross & the Supremes.
Diana Ross & The Supremes
---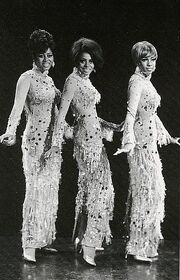 Motown initially conceived of a solo career for Diana Ross in 1966, but did not act on it until 1968. Television specials such as
TCB
(1968) and
G.I.T. on Broadway
(1969) were designed to spotlight her as a star in her own right, and much of the later Ross-led Supremes material was recorded by Ross with session singers The Andantes, not Wilson and Birdsong, on backing vocals. By the summer of 1969, Ross began her first solo recordings. In November of the same year, three years after it was first rumored,
Billboard
magazine confirmed Ross's departure from the group to begin her solo career. That same year, Ross introduced Motown's newest act, The Jackson 5, to national audiences on the Hollywood Palace television variety program.
Ross recorded her initial solo sessions with a number of producers, including Bones Howe and Johnny Bristol. Her first track with Bristol, "Someday We'll Be Together", was tagged as a potential solo single, but it instead was issued as the final Diana Ross & the Supremes release. "Someday We'll Be Together" was the 12th and final number-one hit for the Supremes and the last American number-one hit of the 1960s. Ross made her final appearance with the Supremes at the Frontier Hotel in Las Vegas on January 14, 1970.
After a half-year of recording material with various producers, Ross settled with the production team of Nickolas Ashford and Valerie Simpson, the creative force behind Marvin Gaye's and Tammi Terrell's hit duets and Diana Ross & the Supremes' "Some Things You Never Get Used To". Ashford and Simpson helmed most of Ross's first album, Diana Ross, and continued to write and produce for her for the next decade.
Solo Career: Motown
---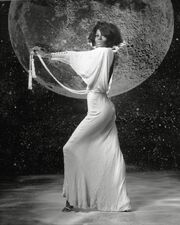 In May 1970,
Diana Ross
was released on Motown. The first single, the gospel-influenced waltz, "Reach Out and Touch (Somebody's Hand)", peaked at number 20 on the Billboard Hot 100. The album's second single, a fully rearranged cover of Gaye's and Terrell's 1967 hit, and another Ashford and Simpson composition, "Ain't No Mountain High Enough", was an international hit, and gave Ross her first #1 pop single and gold record award as a solo artist. "Ain't No Mountain High Enough" received a Grammy nomination for Best Pop Vocal Performance, Female. In 1971, Motown released Ross's second album
Everything Is Everything
, which produced Ross's first UK number-one solo single, "I'm Still Waiting". Several months later, Ross released
Surrender
, which included the top-20 pop hit, "Remember Me". That year, she hosted her first solo television special,
Diana!
, featuring guest appearances by The Jackson 5, Bill Cosby andDanny Thomas.</p>
In 1973 Ross returned to number-one with the single "Touch Me in the Morning". The album of the same name became her first top five charted pop release. Later that same year, Ross and fellow Motown star Marvin Gaye released a duet album, Diana & Marvin. The duo scored an international hit with their cover ofThe Stylistics' "You Are Everything". Ross' 1974 follow-up album, Last Time I Saw Him, wasn't as successful despite the success of its country-tinged title track. Two years later Ross ventured into disco with "Love Hangover", which returned her to number-one. The self-titled parent album became another top five hit and included her previous number-one, the movie theme, "Do You Know Where You're Going To (Theme from Mahogany)". Ross' subsequent follow-ups, including "Baby It's Me"(1977), and "Ross"(1978) fell off the charts soon after they appeared. Ross did have success with her first Broadway one-woman show,An Evening with Diana Ross. Her performance later won her a Tony Award]. She was featured in TV special with the same name.
In 1979 Ross hired former collaborators, who had left Motown in 1973 due to contractual issues with Berry Gordy, to overlook the production of her next album, "The Boss." That album produced the hit title track and the modestly successful "It's My House". Ross' working relationship with Berry Gordy had deteriorated at that point as Gordy refused to be an executive producer of the project. In 1980, Ross hired Nile Rodgers] and Bernard Edwards] of the group "CHIC" to overlook production of her final contractual Motown album, "diana." That album led to major success with "Upside Down" returning Ross to number-one on the pop charts for the first time since "Love Hangover". Its follow-up, "I'm Coming Out", was as successful and both songs found major success overseas.

Film Career:
---
Though Ross had previously appeared in two films while a member of "The Supremes", it wasn't until the early 1970s when Berry Gordy began to focus on making Ross an actress. In late 1971, Motown announced that Diana Ross was going to portray jazz icon Billie Holiday in a Motown-produced film loosely based on Holiday's autobiography "Lady Sings the Blues" written by Holiday and William Dufty. The movie co-starred Billy Dee Williams as Holiday's lover, Louis McKay. The cast also included comedian Richard Pryor as the "Piano Man".
Some critics ridiculed Ross's casting in the role. Ross and Holiday were considered to be "miles apart" in vocal styling and appearance. Undeterred, Ross immersed herself in Holiday's music and life story. She went to drug clinics and talked with doctors as research for the role. Ross made a crucial decision when it came to interpreting Holiday's music. Instead of imitating Billie Holiday's voice, Ross focused on Holiday's inimitable vocal phrasing.
Opening in October 1972, "Lady Sings the Blues" was a major success, and Ross's performance was lauded and well received. Jazz critic Leonard Feather, a friend of Billie Holiday, praised Ross for "expertly capturing the essence of Lady Day." In 1973, Ross was nominated for both a Golden Globe Award and an Academy Award for "Best Actress". Ross along with fellow nominee that year Cicely Tyson, were the second African American actresses to be nominated for an Academy Award for Best Actress after Dorothy Dandridge. Ross won the Golden Globe for Best Newcomer, but lost the Best Actress Oscar to her friend Liza Minnelli for her role in "Cabaret." The soundtrack album for Lady Sings the Blues reached number one on the Billboard 200 for two weeks and broke then industry records by shipping 300,000 copies during its first eight days of release. The double-pocket custom label record is one of Ross's best-selling albums of all time, with total sales to date of nearly two million copies.
In 1975, Ross again co-starred with Billy Dee Williams in the Motown film "Mahogany." The story of an aspiring fashion designer who becomes a runway model and the toast of the industry, Mahoganywas a troubled production from its inception. The film's original director, Tony Richardson, was fired during production and Berry Gordy assumed the director's chair himself. In addition, Gordy and Ross clashed during filming, with Ross leaving the production before shooting was completed, forcing Gordy to use secretary Edna Anderson as a body double for Ross. While a box office success, the film was not well received by the critics: Time magazine's review of the film chastised Gordy for "squandering one of America's most natural resources: Diana Ross".
In 1977, Motown acquired the film rights to the Broadway play "The Wiz," an African-American reinterpretation of L. Frank Baum's "The Wonderful Wizard of Oz." Although teenage Stephanie Mills, a veteran of the play, was originally cast as Dorothy, Ross convinced Universal Pictures producer Rob Cohen to have Ross cast as Dorothy. Because of Ross' age, the script was modified to make the protagonist a school teacher rather than a schoolgirl. Among Ross's costars were Lena Horne, Michael Jackson, Richard Pryor, Nipsey Russell, and Ted Ross. Upon its October 1978 release, "The Wiz", a $24 million production, earned $21,049,053 at the box office. Though pre-release television broadcast rights had been sold to CBS for over $10 million, the film produced a net loss of $10.4 million for Motown and Universal. At the time, it was the most expensive film musical ever made. The film's failure ended Ross' short career on the big screen and contributed to the Hollywood studios' reluctance to produce the all-black film projects which had become popular during the blaxploitation era of the early-to-mid 1970s for several years. "The Wiz" was Ross' final film for Motown.
Ross had success with movie-themed songs. While her version of Holiday's "Good Morning Heartache" only performed modestly well in early 1973, her recording of "Theme from Mahogany (Do You Know Where You're Going To)" gave Ross her third number-one hit, in late 1975. Three years later, Ross and Michael Jackson had a modest dance hit with their recording of "Ease on Down the Road". Their second duet, actually as part of the ensemble of The Wiz, "Brand New Day", found some success overseas. Ross scored a Top 10 hit in late 1980 with the theme song to the 1980 film "It's My Turn." The following year, she collaborated with former Commodores singer-songwriter Lionel Richie on the theme song for the film "Endless Love." The Academy Award-nominated "Endless Love" single became her final hit on Motown Records, and the number one record of the year. Several years later, in 1988, Ross recorded the theme song to "The Land Before Time." "If We Hold On Together" became an international hit reaching number-one in Japan.
Ross would be given movie offers over the years but reportedly turned them down because of either contractual obligations or fears of being typecast. Ross had campaigned to portray pioneering entertainer Josephine Baker in a feature film even during her later years in Motown. However, in 1991, the feature film turned into a TV film with actress, Lynn Whitfield] playing Baker instead of Ross. Ross was also offered a role in an early adaptation of "The Bodyguard." with Ryan O'Neal. However, plans of this adaptation fell through. Years later, Whitney Houston and Kevin Costner assumed the roles of Ross and O'Neal in the 1992 film. In 1993, Ross returned to making movies with a dramatic role in the TV film, "Out of Darkness." Ross won acclaim for her role in the film and a well earned third Golden Globe nomination. In 1999, she and singer, Brandy co-starred in the film, "Double Platinum," which was released prior to the release of Ross' album, "Every Day Is a New Day"
Solo Career: RCA
---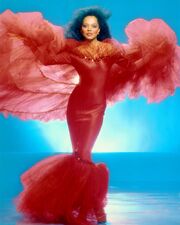 In 1981, Ross decided not to renew her Motown contract only to discover that everything she thought she had owned was only leased to her by Berry Gordy. Ross accepted a $20 million deal with RCA Records in 1981, then the most lucrative contract in music. To complete contractual obligations to Motown, Ross recorded several songs with Lionel Richie, one of which, "Endless Love", led to the duo having an international number-one hit. The song was the theme song of the movie of the same name. When "Endless Love" hit #1 in 1981, Diana Ross became the first woman in music history to chart six #1 records. Combining her 12 as lead singer of The Supremes, Diana Ross' career total of number one records is 18, the most for any female recording artist in music history. Mariah Carey tied Ross' record in 2007. Motown issued a compilation album, "To Love Again," to compete with Ross' RCA debut.
Diana Ross' RCA Records debut, "Why Do Fools Fall in Love, was issued in October 1981. The album yielded three Top 10 hits including the title track "Why Do Fools Fall in Love?", a remake of the 1956 Frankie Lymon & the Teenagers classic of the same name, and the single "Mirror Mirror". A third single, "Work That Body", hit the Top Ten in the U.K. That success was repeated if only more modestly with the 1982 album, "Silk Electric." Ross' recording of Michael Jackson's composition "Muscles" gave Ross another top ten hit. Ross' 1983 album, "Ross," failed to produce any top 40 success outside of its lead single, "Pieces of Ice."
On July 21, 1983, Ross performed a concert in Central Park for a taped "Showtime" special. Proceeds of the concert would be donated to build a playground in the singer's name. Midway through the beginning of the show, a torrential downpour occurred. Ross tried to keep on performing, but the severe weather required that the show be stopped. Ross urged the large crowd to exit the venue safely, promising to perform the next day. The second concert held the very next day was without rain. The funds for the playground were to be derived from sales of different items at the concert; however, all profits earned from the first concert were spent on the second. When the mainstream media discovered the exorbitant costs of the two concerts, Diana Ross faced criticism and poor publicity. Although representatives of Diana Ross originally refused to pay anything for the proposed playground, Ross later paid the $250,000 required to build the park. The playground was finally built three years later. The Diana Ross Playground at 83rd and Central Park West is a beautiful assortment of wood structures and classic outdoor children's gym obstacles making it a lovely addition to the park.
In 1984, Ross' career was revived again with the release of "Swept Away." The title track became an international hit as did the ballad, "Missing You", which was a tribute to Marvin Gaye, who had died earlier that year. Her 1985 album, "Eaten Alive", found success overseas with the title track and "Chain Reaction," while neither of the songs found mainstream pop success in America. Earlier in 1985, she appeared as part of the super-group "USA for Africa"on the "We Are the World" charity single, which sold over 20 million copies. Ross' 1987 follow up to Eaten Alive," "Red Hot Rhythm & Blues,"found less success than the prior album. In 1988, Ross chose to not renew her RCA contract.
Motown Records was being sold by Berry Gordy for $60 million. Ross advised Gordy not to make the move. Before leaving Motown, Gordy offered Ross a contract back to Motown. Ross was at first hesitant to return to the label but agreed after Gordy offered her part-ownership of the label. Despite initial promotion, Ross' next album, "Workin' Overtime," bombed. Subsequent follow-ups including 1991's "The Force Behind the Power," and 1995's "Take Me Higher," and 1999's "Every Day is a New Day" produced similarly disappointing sales domestic sales. Ross had more success overseas with the albums than she did in America. In 1994, Ross performed at the opening ceremony of the FIFA World Cup, hosted in the USA. Her performance has become a running joke in football circles due to her obvious miming and for missing the goal from close range. In 1999, she was named the most successful female singer in the history of the United Kingdom charts, based upon a tally of her career hits. Madonna would eventually succeed Ross as the most successful female artist in the UK.
Supremes Reunions
---
In 1983, Ross reunited with former singing partners, Mary Wilson and Cindy Birdsong for the television special "Motown 25: Yesterday, Today, Forever." The three performed their 1969 number-one hit "Someday We'll Be Together", although alleged onstage altercations between Ross and Wilson became an issue during and after the taping of the special. A four-song Supremes set was planned but Ross, suffering from influenza, declined to rehearse with "The Girls" and stated that they would have to be happy just doing "Someday We'll Be Together". Before the special was taped later that evening, Wilson allegedly planned with Birdsong to take a step forward every time Ross did the same. This appeared to frustrate Ross, causing her to push Wilson's shoulder. Later, Wilson was not aware of the script set by producer Suzanne DePasse, in which Ross was to introduce Berry Gordy. Wilson took it upon herself to do so, at which point Ross pushed down Wilson's hand-held microphone, stating "It's been taken care of." Ross, then, introduced Gordy. These incidents were excised from the final edit of the taped special, but still made their way into the news media; "People" magazine reported that "Ross [did] some elbowing to get Wilson out of the spotlight."
The original Supremes were inducted to the Rock & Roll Hall of Fame in 1988. Original member Florence Ballard] had died twelve years earlier. Ross was performing around the time of the induction ceremony and was unable to attend; Mary Wilson accepted the award. In 1999, Ross, Wilson and Cindy Birdsong held discussions about a possible Supremes reunion tour. These negotiations failed, and Ross hired late-era Supremes members Lynda Laurence and Scherrie Payne, who were touring as the "Former Ladies of the Supremes," to participate. The Return to Love tour was launched in June 2000. The tour did well in large markets, but, struggled in medium markets due to controversial press stories. Despite selling out the final evening at Madison Square Garden in New York, the tour ended abruptly after just fourteen dates.
Current Activities
---
Following successful European and American tours in 2004, Diana Ross returned to the Billboard music charts with two duets in 2005. "I've Got a Crush on You", recorded with Rod Stewart for his album The Great American Songbook, reached number 19 on the Billboard Hot Adult Contemporary chart. The second, recorded with Irish boy-band "Westlife," was a remake of Ross's 1991 number-2 U.K. single, "When You Tell Me You Love Me", and reached number 2 in the U.K., just as the original had, and number 1 in Ireland. In January, 2005, M.A.C. Cosmetics named Diana Ross its beauty icon for 2005. In June 2006, Motown released the shelved Blue album, which peaked at number 2 on Billboard's Jazz albums chart. Her newest album, "I Love You" was released worldwide on October 2, 2006 and January 16, 2007, in North America, on the Manhattan Records/EMI label. Since its release in 2007, EMI Inside reports that I Love You has sold more than 622,000 copies worldwide. In January 2007, Ross appeared on a number of television shows across the U.S. to promote her new album and began touring in the spring. She appeared on "American Idol" as a mentor to the contestants. Ross's United States "I Love You" tour garnered positive reviews,
At the 2007 BET Awards, Ross was presented with a Lifetime Achievement Award by her five children and singer Alicia Keys. Stevie Wonder, Erykah Badu, and Chaka Khan] performed musical tributes to Ross, covering several of her most popular recordings. During her acceptance speech, Ross lambasted the declining level of professional standards among the younger generation's musicians, as well as their overabundant use of vulgarity and profanity to garner press attention and record sales. Later that year, the prestigious Kennedy Center Honors committee, which recognizes career excellence, cultural influence and contributions to American culture, named Diana Ross as one of its honorees. Past honoree and fellow Motown alumni Smokey Robinson and actor Terrence Howard spoke on her behalf at the official ceremony that December, and singers Ciara, Vanessa L. Williams, Yolanda Adams, and American Idol winner Jordin Sparks] performed musical tributes. In February 2008, Ross was guest speaker at the Houston-based Brilliant Lecture series at The Hobby Center, Houston.
The lectures are designed to present prolific and influential characters to speak about their life and inspirations. During her lecture Ross stated that it is "unlikely" that she would undertake any further movie projects.
In May 2008, Ross headlined at New York City's Radio City Music Hall's 'Divas with Heart' concert event, which also featured fellow performers Gladys Knight, Chaka Khan, and Patti LaBelle. The following month she was a headliner at the City Stages music festival in Birmingham, AL, next to The Flaming Lips. The New York Times said about the duo, "the most incongruous headliners at an outdoor urban concert series, with the once-in-a-lifetime-at-most combination of Diana Ross and the Flaming Lips. Something for everyone, surely." She performed at two major events in the UK in July 2008: the famous Liverpool Pops Festival and the National Trust Summer Festival at Petworth House, West Sussex. On October 16–17, 2009, Diana Ross headlined the annual Dutch concert event, Symphonica in Rosso, in the 34,000-seat Gelredome Stadium, in Arnhem, The Netherlands. She was accompanied by a 40-piece orchestra. Each of the two concerts was sold-out.
Community content is available under
CC-BY-SA
unless otherwise noted.