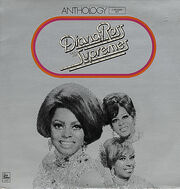 Anthology, also known as Anthology: The Best of The Supremes, first released in May 1974, is a series of same or similarly titled compilation albums by The Supremes. Motown released revised versions in 1986, 1995 and 2001. In its initial version, a 35-track triple record collection of hits and rare material, the album charted at #24 on Billboard's "Black Albums" and #66 on "Pop Albums". In 2003, Rolling Stone Magazine listed the 2001 version of the album at #431 in its list of "Rolling Stone's 500 Greatest Albums of All Time". Without specifying which edition, music journalist Robert Christgau lists the album as part of his recommended "core collection" of albums representing rock music before 1980.
The Anthology series of The Supremes' releases began in 1974 with a three-disc compilation album that surpassed in scope any releases previously compiled to represent "one of the 1960s' most popular groups". The three-album set not only included all of the R&B hits and most of the pop hits of the Supremes, but also included several tracks of the bands more experimental material, including forays made by the band into 1960s British pop, country music and musical theatre. The August 1986 CD release of the album added 15 songs to a total of 50 while the re-release on September 28, 1995 raised the number to 52. On December 18, 2001, Motown released a fourth version of Anthology with 50 songs representative of The Supremes' period with Diana Ross. This version includes three previously unreleased versions of songs in addition to the 1960s hits and a selection of cover songs.
Chart History
Edit
| | | |
| --- | --- | --- |
| Album | U.S. Pop Albums | U.S. R&B Albums |
| Diana Ross & The Supremes Anthology | #66 | #24 |
Community content is available under
CC-BY-SA
unless otherwise noted.