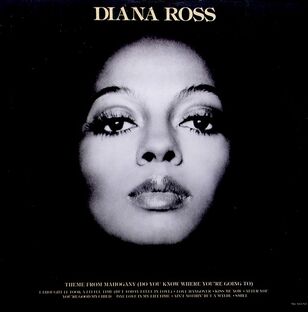 Diana Ross is Diana Ross' second self-titled album and her sixth solo album. The album was released on February 10, 1976 by Motown Records.
Album Background
Edit
The album was Diana's biggest-selling album since 1973's "Touch Me in the Morning", and the first of her albums since her debut to yield more than four hit singles.
Two of the singles taken from the album became #1 hits: "Theme from Mahogany (Do You Know Where You're Going To)" (also included on the "Mahogany" soundtrack), and the disco anthem "Love Hangover."
A third single "I Thought it Took a Little Time" was on its way to another pop smash when its pop chart life was circumvented due to having to rush release "Love Hangover" to obliterate a competing version by The 5th Dimension.
"I Thought it Took a Little Time" did become the second Top 5 Adult Contemporary single despite its eclipsed run on the Hot 100 (see Billboard). It remains a fan favorite and was also remixed for the clubs on the Almighty Records dance compilation, "We Love Diana Ross".
She was also nominated for a Grammy for "Love Hangover" (Best R&B Performance, Female Artist) and an Oscar for Best Song for "Theme from Mahogany (Do You Know Where You're Going To)".
Victor Skrebeneski photographed Diana's iconic album art. It was chosen by the Italian Fan Club association as "The Most Beautiful Album Art".
It signaled a new direction as the Top 5 international smash album would yield three global hits.
She performed most of the singles from the album on her award winning "An Evening with Diana Ross" Broadway show, tour, television special and album.
Tracklisting
Edit
Side 1
Love Hangover (7:49)
Kiss Me Now (2:42)
Side B
You're Good My Child (3:35)
One Love in My Lifetime (3:37)
Ain't Nothin' But a Maybe (3:35)
After You (4:06)
Smile (2:55)
Chart Performance
Edit
The album reached #5 on the US Billboard 200 album chart, #4 on the US Billboard R&B Album Chart and the Top 5 in the UK where it was awarded a Gold disc for sales in excess of 100,000 copies.
Community content is available under
CC-BY-SA
unless otherwise noted.