Florence Ballard



Born

June 30, 1943, Detroit, Michigan

Origin

Detroit, Michigan

Died

Feb. 22, 1976 (Age 32)

Genre(s)

Doo-Wop, Soul, R&B, Pop

Occupation

Singer

Instrument(s)

Vocals

Voice Type(s)

Soprano

Acive Years

1959-1976

Label(s)

Lupine, Motown & ABC Records

Associated Acts

The Primes, Eddie Floyd, The Supremes, Mary Wilson, Barbara Martin, Betty Mcglown, Diana Ross
Florence Ballard (born Florence Glenda Ballard on June 30, 1943 in Detroit, Michigan) was one of the founding members of the Supremes.
As a member of the group, she sang on sixteen top-40 singles (including ten number-one hit songs).
In 1967, she was removed from the Supremes lineup and pursued a solo career which was unsuccessful.
For five years, Florence struggled with alcoholism, depression & poverty. She attempted to make a comeback, but she sadly died of cardiac arrest in February of 1976 when she was only 32 years old.
Florence's death was considered by one critic as "one of rock's greatest tragedies."
Early Life
Edit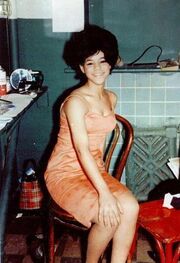 Florence was born in Detroit, Michigan to Lurlee (née Wilson) and Jessie Ballard. She is of African-American, Native American & European-American descent.
She was the eighth of thirteen children in her family. Florence was described as smart, low-key and tomboyish.
As a child, she earned two nicknames as a child: "Flo" and "Blondie" (due to her mixed-raced heritage & her light auburn hair).
Lurlee was from Rosetta, Missisippi & Jessie was from Bessemer, Albama. Jessie was born under the name "Jesse Lambert."
After Jessie's grandmother was shot & killed, he was adopted by another family named the Ballards & Jessie changed his surname to "Ballard."
Jessie left his adoptive parents when he was 13 years old and engaged in an affair with Lurlee (who was only 14 years old at the time).
In 1926, the Ballards moved to Detroit where Jessie soon worked at General Motors. Jessie was also an amateur musician & helped instigate Florence's interest in singing, teaching her various songs while accompanying her on the guitar.
Due to financial struggles, Florence & her family moved frequently to different neighborhoods in Detroit.
By the time Florence was 15 years old, she & her family settled at Detroit's Brewster-Douglass housing projects. The following year, her father passed away from cancer.
She attended Northeastern High School and was coached vocally by Abraham Silver.
While in Northeastern, Florence met a girl from a different school named Mary Wilson as the two sang on the same talent show. Shortly after, they became friends.
In 1959, she was spotted on her porch by a local talent scout named Milton Jenkins, then manager of the vocal group the Primes as he sought to find female vocalists to fill spots for a sister group of the Primes.
Impressed by her vocals, Milton asked Florence if she knew any more singers. Ballard soon asked Mary to join the group who enlisted another neighbor Diane Ross. Betty Mcglown completed the original lineup and Milton named them the Primettes.
After performing in sock hops and jubilees for much of a year, the group auditioned for Motown Records founder Berry Gordy after Motown staffer Richard Morris introduced the group to him.
Berry advised the then-underage vocal group to graduate from high school before auditioning again
Shortly afterwards, Florence was raped at knife point by local high school basketball player Reggie Harding after leaving a sock hop at Detroit's Graystone Ballroom where she had attended with her brother, but they were separated accidentally.
The rape occurred at an empty parking lot off of Woodward Avenue.
Florence responded by secluding herself in her house, refusing to come outside, which worried her group-mates. Weeks later, she eventually told Mary and Diana about what happened.
Even though Diana & Mary were sympathetic to what had happened to Florence, they were confused as she was considered to be strong-willed and unflappable. The rape was never mentioned again.
Prior to the rape, Florence had been described by Mary and an early boyfriend named Jesse Greer as being a "generally happy if somewhat mischievous and sassy teenager."
Mary believes that the rape incident heavily contributed to the more self-destructive aspects of Florence's adult personality such as her cynicism, pessimism and fear or mistrust of others.
The Supremes (1959-1967)
Edit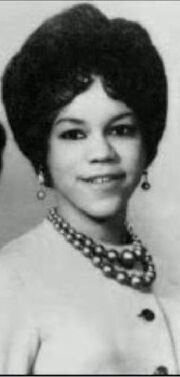 Florence eventually returned to her career and the Primettes signed their first deal with local label Lupine Records, releasing one record called "Tears of Sorrow" which was backed up by a song called "Pretty Baby." Neither of the songs made the charts.
Despite the assumption that Florence was the group's original lead vocalist, Diana and Mary sung lead on the respective songs. Following this, Betty McGlown was replaced by Barbara Martin.
The group persisted on getting signed to Motown by sitting on the steps of Motown's Hitsville USA building and flirting with Motown's male artists & staffers.
When a staff producer would come outside looking for people to provide background vocals or handclaps, the group would often participate.
Florence eventually dropped out of high school even though the other girls graduated. Eventually, Berry Gordy allowed the girls to record songs with the label.
In August of 1960, the group recorded a ballad called "After All" (which included all four members singing a lead part).
During that same year, the group recorded the songs "You Can Depend On Me," I Want A Guy" and "Buttered Popcorn" (which featured Florence in her first song as the lead vocalist).
During this period, they provided background vocals for established Motown acts such as Marvin Gaye, Marv Johnson and Mary Wells.
In January of 1961, Gordy relented and allowed the group to be signed under the condition they change their name.
Berry and staffer Janie Bradford wrote a list of names for the girls on a list. Jamie presented the list to Florence who picked the name "Supremes."
Bradford presented the list to Ballard. Florence eventually picked the name "Supremes."
Even though the other members felt that they would be mistaken for a male vocal group, the name stuck and Berry signed them to the label on January 15, 1961.
Then, Motown Records issued "I Want A Guy" and "Buttered Popcorn." Even though neither of the singles charted, they were regional successes in Detroit.
By the spring of 1962, Barbara left the group to get married and the rest of the group continued on as a trio.
During that same year, Ballard briefly left the group to perform with girl group The Marvelettes, replacing Wanda Young (who was on maternity leave at the time).
In May of 1962, Florence returned to the Supremes and in June, they had their first charted single with "Your Heart Belongs To Me" (which was recorded before Barbara left the group).
Between 1961 and 1963, eight of the Supremes' singles failed to chart successfully.
Though there had been no designated lead vocalist in the Supremes, Berry Gordy felt Diana Ross' pop-oriented vocals would bring the group success.
After the success of the single "When The Lovelight Starts Shining Through His Eyes," Diana was made the group's official lead singer from then on.
In 1964, the Supremes scored their first number-one single, "Where Did Our Love Go" and eventually scored a total of three number-one singles in 1964 alone including "Baby Love" and "Come See About Me."
By then, the group's live performances were given polish by Maurice King and Cholly Atkins.
During live performances, the group incorporated standards.
Florence was given a lead vocal on the song, "People" (which became her trademark lead onstage for a number of years).
Due to her onstage candor (which included telling jokes), she became popular with audiences & most of the jokes were in response to Diana Ross' comments.
Florence sung lead sporadically on several of the Supremes albums (including a cover of Sam Cooke's song "(Ain't That) Good News" on the Supremes' tribute album "We Remember Sam Cooke").
According to Mary, Florence's vocals were so loud that she was made to stand seventeen feet away from her microphone during recording sessions.
Florence's voice (which went up three octaves) was often described as "soulful, big, rich and commanding," ranging from deep contralto to operatic soprano.
All in all, she contributed vocals to ten number-one pop hits and sixteen top forty hit singles between 1963 and 1967.
Issues With Berry Gordy\Departing from The Supremes
Edit
Despite the Supremes' rise to fame, Florence was reportedly depressed.
She would later complain that their success had a negative impact on their once-close bond.
Florence told an interviewer in 1975 that she, Diana & Mary would have their own hotel rooms whereas in the past, they shared one hotel room.
She also felt that Motown's role in making Diana a star was also having a negative impact on the group.
To combat these issues and more, Florence turned to alcohol and constantly had arguments with Mary and Diana.
She also began to have conflicts with Berry Gordy as she felt he had cheapened the group's sound from R&B music to pop music.
One night in 1966 (prior to opening at the Copacabana supper club), Florence had come down with a sore throat and asked Diana to sing "People."
Berry responded to this by having Diana lead the song from that point onward which depressed Florence and further deteriorated the relationship between her & Berry.
During 1966, Florence started gaining weight and missing performances & some recording sessions. She would be replaced often with The Andantes' Marlene Barrow
Eventually Cindy Birdsong (of The Bluebelles) became a stand-in for Florence throughout 1967.
From that point, Detroiters saw Diana's relationship with Berry Gordy as the primary reason for Florence's decline.
According to Florence's daughters, Diana had stated that she was going to see to it that her children would receive royalty payments after Florence's death.
According to Florence's children, these payments never came through which added to the tensions between the remaining Supremes and Berry Gordy.
During that May, Florence returned to the group, thinking that her leave was only temporarily.
In late June, Berry officially changed the group's name to "The Supremes with Diana Ross", which was billed atop the banner of Las Vegas' Flamingo Hotel.
On July 1, 1967 (a day after her 24th birthday), Florence showed up inebriated during the group's third performance at the Flamingo and stuck her stomach out from her suit which angered Berry.
After that, Berry ordered Florence to go back to Detroit with Cindy officially replacing her which abruptly ending her tenure with the group.
It was decided as early May that Cindy would be the official replacement for Florence once her contract with the Bluebelles was bought out.
In August of 1967, the Detroit Free Press reported that Florence had taken a temporary leave of absence from the group due to "exhaustion."
On February 22, 1968, Florence & Motown Records negotiated to have her released from the label.
Florence's attorney in the matter received a one-time payment of $139,804.94 in royalties and earnings from Motown.
As part of the settlement, she was advised to not promote her solo work as a former member of the Supremes.
On February 29, 1968, Florence married her boyfriend Thomas Chapman.
Attempt At a Solo Career
Edit
In March of 1968, Florence signed with ABC Records.
With her husband as her manager, she released two solo singles with the label: "It Doesn't Matter How I Say It (It's What I Say Matters" & "Love Ain't Love."
Neither singles made the charts at all & Florence's upcoming debut solo album with ABC Records was shelved.
Due to this, Florence's settlement money was depleted from the Chapmans' management agency, Talent Management, Inc.
The agency had been led by Leonard Baun (Florence's attorney who had helped to settle her issues with Motown Records).
Following news that Leonard was facing multiple charges of embezzlement, she fired him.
Florence continued to perform as a solo artist, opening for Bill Cosby in September of that same year at Chicago's Auditorium Theater.
In October of 1968, she gave birth to her twin daughters Michelle and Nicole.
In January of 1969, Florence performed at one of President Richard Nixon's inaugural balls.
Despite these successes, her solo career suffered and she eventually was dropped from ABC Records in 1970.
In July of 1971, Florence sued Motown Records for additional royalty payments that she believed she was due to receive, but was defeated in court by Motown.
During that same year, she gave birth to a third daughter named Lisa. Shortly afterwards, she and her Thomas separated after several domestic disputes.
Also in that same year, her home was foreclosed. Facing poverty and depression, Florence developed alcoholism and shied away from the spotlight. In 1972, she moved into her sister Maxine's house.
In 1974, Mary invited Florence to join the Supremes (which now included Cindy Birdsong and Scherrie Payne at the Six Flags Magic Mountain in California.
Even though she played tambourine, Florence didn't sing and told Mary that she had no ambition to sing anymore.
Later that year, Florence's plight started to be reported in newspapers as word got around that she had applied for welfare.
Around that time, Florence entered Henry Ford Hospital for rehab treatment. After six weeks of treatment, she slowly started recovering.
In early 1975, Florence received an insurance settlement from her former attorney's insurance company. The settlement money helped her buy a home in Detroit's Shaftsbury Avenue.
Inspired by the financial success, Florence decided to return to singing and also reconciled with her husband.
On June 25, 1975, her first concert performance (in more than five years) took place at the Henry and Edsel Ford Auditorium in Detroit, Michigan.
Florence performed as part of the Joan Little Defense League and was backed up by female rock group The Deadly Nightshade.
Following this, she began receiving offers for interviews with Jet magazine being one of the first to report on Florence and her recovery.
Also, Florence was in talks to sign a new record deal & was starting to write her autobiography documenting her life and career.
On February 21, 1976, Florence entered Mt. Carmel Mercy Hospital, complaining of numbness in her extremities.
The following morning, she died at 10:05 a.m. from cardiac arrest which caused by a coronary thrombosis (which means there was a blood clot in one of her coronary arteries).
Florence is buried in Detroit Memorial Park Cemetery located in Warren, Michigan.
Florence's Legacy
Edit
Florence's story has been referenced in a number of works by other musicians.
Mississippian Steve Forbert's 1980 song "Romeo's Tune" (from his album "Jackrabbit Slim") is "dedicated to the memory of Florence Ballard."
Billy Bragg's song "King James Version from his album "William Bloke" contains the line "Remember the sadness in Florence Ballard's eyes."
On hip-hop artist Nas' 2006 album "Hip Hop is Dead," he mentiones the rivalry between Diana & Florence on the track "Blunt Ashes" with the lyrics:
"When Flo from the Supremes died/Diana Ross cried/Many people said that she was laughing inside."
In Stephen King's short story "You Know They Got a Hell of a Band," he includes Florence as one of the deceased artists who performs in a town called "Rock and Roll Heaven."
The 1981 Broadway musical "Dreamgirls" (which chronicles a fictional group called "The Dreams" and a number of plot components parallel events in the Supremes' career).
The character of Effie White (who was like Florence Ballard) is criticized for being overweight & is fired from the group.
In 2006, the film version of "Dreamgirls" was released & featured more overt references to Florence's life and the Supremes' story (including gowns and album covers that are direct copies of Supremes originals).
Jennifer Hudson won a Golden Globe Award and Academy Award for her portrayal of Effie White in the film.
In her Golden Globe acceptance speech, Jennifer dedicated her win to Florence.
The music video for Diana Ross' song "Missing You" pays tribute to Marvin Gaye, Florence and Paul Williams (who were all former Motown artists who had died).
In 1988, Florence was inducted to the Rock and Roll Hall of Fame as a member of the Supremes alongside Diana Ross and Mary Wilson.
Community content is available under
CC-BY-SA
unless otherwise noted.