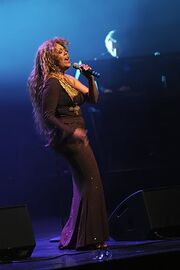 Freddi Poole, (born Freddie Pool in Dallas Texas on September 12th,) is an American singer, known best for her work with "The Former Ladies of the Supremes" and currently with "The Three Degrees."
Biography
Edit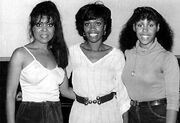 Raised in Los Angeles, California Poole began her singing career in the church at the age of four, and got her first recording contract at the age of fourteen with the girl group "The Delicates". The quartet recorded several singles for various labels during the 60's including "Challenge," "Soultown," and "Pulsar Records." Previously, Pool had caught the attention of Motown Records founder, Berry Gordy, who invited her to record a demo for his company. She recorded a tune entitled "Crying." Produced by Hal Davis & Marc Gordon, the song featured Brenda Holloway & Frank Wilson on backup vocals. Gordy expressed an interest in signing Pool to a solo deal, which she turned down; instead preferring to stay with "The Delicates," who she continued to perform with until the early '70s. During the next decade, she became a founding member of the female trio "Wild Honey," alongside R&B singer Vesta Williams, and Mary Flowers. Ron Townson of the recording group, "The 5th Dimension" was their mentor. "Wild Honey" disbanded in the early '80s. Freddi's impressive list of musical associations include performances with Lola Falana, former "Supreme" Jean Terrell, Lisa Stansfield, Phyllis Hyman, Patti LaBelle, Ron Townson, and Sammy Davis, Jr.. Her television appearances include the "Tonight Show," "Merv Griffin," and "the Arsenio Hall Show." Freddi has also recorded and performed with Liza Minnelli, Lou Rawls and Jermaine Jackson. She managed her own 12 piece band "The Motorcity Angels," and toured extensively with legendary Motown songstress, Gladys Knight.
Name Change
Edit
Freddi Poole is Freddie's stage name, her birth name being Freddie Pool. For most of her career, Freddi dropped the "e" on her first name and added it to her last name, however in the late 2000's, Freddi reverted back to her birth name. She is now billed "Freddie Pool".
The Former Ladies of The Supremes
Edit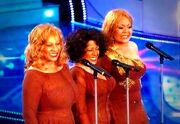 In July 1996, Freddi replaced singer/songwriter, Sundray Tucker in the Former Ladies of the Supremes. With her powerhouse vocals, Poole regularly led the trio in spirited renditions of "You Can't Hurry Love," and Aretha Franklin's "Respect." With Poole in tow, the trio continued to tour and to record, visiting such places as London, The Netherlands, Italy, Croatia, and Antwerp (Belgium) 2001 saw the group releasing an exlusive single in Europe, entitled "Light The World (With The Flame of Love)," while 2005 saw the domestic and international release of the Scherrie-penned "Sisters United (We're Taking Control)." In September 2009, it was reported via Scherrie Payne and Lynda Laurence's website that Freddi would be no longer a part of "The Ladies", instead, Joyce Vincent, formerly of Tony Orlando and Dawn, had taken her place. No explanation was given for this change.
Supremes Tributes
Edit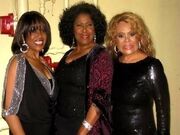 In January of 2010, four months following her departure from "The Former Ladies of The Supremes," Freddi Poole and her former "Wild Honey" band-mate Mary Flowers backed up former Supreme, Jean Terrell in a Supremes review at the Beverly Wilshire Hotel in Beverly Hills, California. Meanwhile, later that May Freddi debuted her own Supremes Tribute group once again featuring Mary Flowers, and singer Wendy Smith at the OC Pavilion Theatre in Santa Ana, California.
The Three Degrees
Edit
In January 2011, Freddi replaced singer Cynthia Garrison in "The Three Degrees". A member of the group for over twenty years, Garrison suffered from Piriformis Syndrome. In 2016 The Three degrees released their first full-length studio album "Strategy: Our Tribute To Philadelphia" which featured Pool with longtime members Valerie Holiday and Helen Scott. The group continues to perform today.
Community content is available under
CC-BY-SA
unless otherwise noted.