Jean Terrell



Born

November 26, 1944
Jean Terrell, born, Velma Jean Terrell, on Nov. 26, 1944, the Dionne Warwick voice and lookalike is best known for replacing Diana Ross as the new lead singer of the Supremes in 1970. She is the sister of the former WBA Heavyweight Boxing Champion, Ernie Terrell, who famously fought Muhammad Ali. Moving from Belzoni, Mississippi to Chicago. for a better life at an early age, Jean Terrell was guided by her family to sing, and it was in the late 1960s that she and her brother formed a group called Ernie Terrell and the Heavyweights.
Supremes Years
Edit
It was while singing in Miami, Florida where Motown president Berry Gordy discovered the 24 year old singer performing with her brother at a club in Miami Beach. Looking for a replacement for his protegée, singer Diana Ross, who was leaving the group she had fronted during most of the 1960s, The Supremes, for a solo career, Gordy first signed Terrell to Motown as a solo artist, but then decided to drop her into The Supremes as Ross's replacement alongside continuing, fellow members Mary Wilson and Cindy Birdsong. Terrell then recorded much of the new post Ross Supremes material in the studios and rehearsed the group's new act during the day with Wilson and Birdsong, while Ross, Wilson and Birdsong performed as Diana Ross & The Supremes at night. After Ross's farewell show with the group at the Frontier Hotel in Las Vegas on Jan. 14. Terrell made instant impact fronting the new Supremes, recording prolifically and successfully with several of Motown's top producers. The revitalised Supremes scored more chart success right from the beginning of the new decade; "Up the Ladder to the Roof", Stoned Love, River Deep Mountain High (with The Four Tops), Nathan Jones and Floy Joy. After the success of "Floy Joy," Birdsong quit to start a family and was replaced by Lynda Laurence (a former member of Stevie Wonder's group Wonderlove). Despite the initial successes, toward the end of '73, Terrell and Laurence decided that it would best for the Supremes to leave Motown and seek another record company. As Motown and Mary Wilson owned the name "Supremes", the only option left for Terrell and Laurence was to leave. Both were unhappy with Motown's seeming lack of interest in promoting this line-up of the Supremes, a line-up that recorded no hit singles, the closest being "Bad Weather", a Stevie Wonder tune that failed on the charts at a time when everything else he was releasing went gold. In addition, Laurence was expecting a child at the time. So Scherrie Payne replaced Terrell and Cindy Birdsong returned to replace Laurence.
Solo Career
Edit
Signing a contract with A&M Records, Terrell finished a full-length solo studi album entitled
I Had to Fall in Love
in 1978. Friend and former Supreme Lynda Laurence provided backing vocals for the record. However, due to Terrell's Jehovah's Witness beliefs, she disagreed with promoting the recording in a specific way the record label wanted, resulting in semi-retirement. In the early 1980s Terrell put together a one woman show and did limited touring throughout the Unitied States. Her act consisted of several Supremes songs, songs from her solo album and cover versions of songs by Bette Midler and Lionel Richie. Friend and former Supreme Lynda Laurence would often perform backing vocals for Terrell during these tours. Another who performed backing vocals for Terrell during these tours was Freddi Poole, whom later became a long-standing member of Scherrie Payne and Lynda Laurence's group the F.L.O.S. (former ladies of THE SUPREMES).
Jean, Scherrie, & Lynda of The Supremes
Edit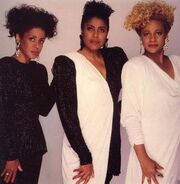 Scherrie Payne was approached by Superstar International records for a Supremes' reunion record project and from this, the Former Ladies of the Supremes (FLOS for short) with Terrell and Laurence was born in 1986. The trio began touring and recording under the name "Jean, Scherrie, & Lynda of The Supremes" after they signed to Ian Levine's U.K.-based Motorcity label in 1989. Under that recording contract, Jean recorded a variety of songs both as a member of the group, and as a solo artist. Her solo work at the time included the tracks :Everything To Me," and "Too Many Memories." Jean reamined with the group until her departure in 1992 to pursue business interests. She was replaced in the group by Laurence's sister, Sundray Tucker. However, following Tucker's departure from the trio in 1996, Terrell returned for a two-day reunion engagement with Payne and Laurence at the Industry Cafe in Los Angeles.
Later Career
Edit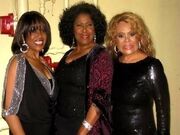 Since leaving the Former Ladies of The Supremes, Terrell has released a biographical DVD of her life and has continued to sing onstage with jazz musicians. In January of 2010, Terrell recruited singers Freddi Poole (formerly of "The Former Ladies of The Supremes") and Mary Flowers (of "Wild Honey") as "Jean Terrell's Supremes Review" for a fundraiser concert in Beverly Hills California.
Community content is available under
CC-BY-SA
unless otherwise noted.