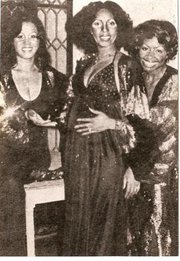 Following an exhausting European tour in early 1977, "The Supremes," then consisting of original member Mary Wilson, Scherrie Payne, and Susaye Greene played their final venue at the Drury Lane Theatre in London, England on Sunday June 12, 1977. The concert was intially planned only as Mary Wilson's Farewell show, with Payne and Greene planning to continue the group with a new third member in her place. Within a month however, Wilson was rehearsing two more women to tour as a new group of "Supremes."
A New Beginning
Edit
According to Wilson, with hershe departure, Motown had let "The Supremes" go on hiatus despite the group still having several South American tour-dates to complete. At the time, Scherrie and Susaye had not yet found a replacement singer, and were unable to complete the dates themselves. They chose not to continue with Mary because they disagreed with Pedro on the handling of the group.  Pedro had been acting as the group's manager since the mid-70's. At the time Mary was still signed to Motown as a member of "The Supremes," and if they did not fulfill these contracts, the venues would sue. Mary and Pedero being in charge of the group at that time, and in charge of all the bookings, either had to know these dates were on the books, or accepted them because the money was good and couldn't afford to not attend.  Even after several years of limited success, the Suprems still had a draw for live performances.  Therefore, at seven months pregnant, with only a couple of days to prepare, and still not having fully recovered from the European tour, Wilson took it upon herself to hire new singers, not carrying anything about Scherrie and Susaye continuing with The Supremes without her. Initially she had wanted to hire former Supreme, Lynda Laurence. But unfortunately, Laurence was unable to return. According to Lynda, she was never asked.  Cindy Birdsong, whom was then still signed to Motown as a member of The Supremes as well, was happy to go along, bringing her son David along with her. Meanwhile, through Reggie Wilkins a former employee, Mary found singer Deborah "Debbie Sharpe." Debbie had sung professionally with the "Oral Roberts World Action Singers," and therefore had both concert and television experience. Despite her having left "The Supremes" previously in the spring of 1976, Birdsong was also still contractually signed to Motown as a member of "The Supremes." The three-week tour began in Caracas, Venezuela, and was composed of mostly small clubs. According to Wilson every minute was nerve-racking. Neither the gowns nor the musicians' music charts/sheets had arrived by the time they reached the venue. Shortly after they arrived, Mary received word that Motown did not approve of her taking out another group of "Supremes," even though they were not billed as "The Supremes." Prior to the tour, her husband and manager, Pedro Ferrer had warned all promoters and television executives not to announce the trio as "The Supremes" but as "Mary Wilson of The Supremes." However, despite the company's displeasure and the fact that it owned the rights/distribution rights to the name "Supremes," Motown never cancelled the tour.
The Two Karens
Edit
Later that year Mary began auditioning new background singers, one of which was soul singer Merry Clayton (of "Dirty Dancing" soundtrack fame) However, thinking Clayton too vocally advanced to be singing back-up, in the end, she auditioned and hired Karen Jackson, a telephone operator who had sung in a few local bands. In the end, Karen became one of Mary's most faithful background singers. She then hired Kaaren Ragland, an actress and singer from Virginia. According to Mary, "both were single, atrractive, and dedicated." She and Cindy rehearsed them for a year end's tour of Europe, that was composed of dates at officers' clubs and swank discos. Meanwhile, Mary was still in and pursuing legal battles with Motown over her use of the name "Supremes." From Mary's perspective, she was a solo artist with two background singles. However, from Motown's perspective Mary was touring around a competing group of "Supremes" to the Scherrie and Susaye-grounded Supremes they were planning to continue with.
Solo Career With Motown
Edit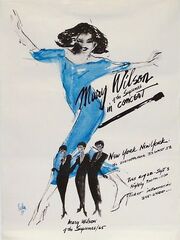 Mary's lawsuits with Motown were dropped in 1978. Part of the negotiation was that she receive a solo recording contract with the sompany. This deal resulted in her first solo album, 1979's Disco-infused "Mary Wilson." Neither of Mary's touring background singers appeared on the record. Unfortunately, neither the album nor its accompanying singles (1979's "Red Hot," and 1980's "Pick Up The Pieces") made much impact on the national charts. Mary made her U.S. solo debut at the New York, New York Club in Manhattan, only a few weeks following the album's release to glowing reviews. Soon afterwards, she began recording new solo material with Gus Dudgeon whom had been greatly responsible for several of Sir Elton John's biggest hits. Motown however, was displeased with the 4 completed tracks which were composed of rock tunes and ballads. According to Mary, the company told her that nobody was doing ballads at the time, and they could only release Disco music, and with that they showed her the door. After 19 years with the company, they officially let her go in 1980.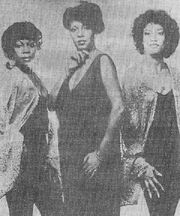 In 1980, without a record label, Mary went back out on the road; this time with Karen Jackson and Gloria Scott. They were then billed as "The Supremes' Mary Wilson." Together they toured such far off and exotic places as Bahrain, Sharja, Muscat, and Saudi Arabia. The trio also appeared on many international television shows. Now with Mary's first solo album having been released, several songs from the studio project were now incorporated into the show, most notably her 1979 charter, "Red Hot" and its follow-up, "Midnight Dancer." Over the years, many others came and went including Debbie Crofton and Robin Alexander.  The self-titled LP is considered a flop.   It sold poorly and Motown dropped her from their label never to resign her again.  They finally got rid of her and the trouble she caused them.  Constantly in lawsuits with Motown, never winning any of them.   Her former partners, Scherie & Susaye released an LP the next year, which sold twice as many copies as Mary's solo LP, and was critically successful though not commercially so.
Community content is available under
CC-BY-SA
unless otherwise noted.