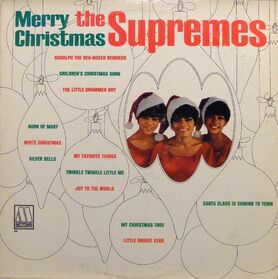 Merry Christmas is a Christmas album by the Supremes. It was released on November 1, 1965 by Motown Records.
The album (which was produced by Harvey Fuqua) includes recordings of familiar Christmas songs such as "White Christmas", "Santa Claus Is Coming to Town", "My Favorite Things" and "Joy to the World."
Two original songs "Children's Christmas Song" and "Twinkle Twinkle Little Me", were issued as the sides of a late 1965 Supremes holiday single.
Tracklisting
Edit
Side One
"White Christmas" (Irving Berlin)
"Silver Bells" (Ray Evans, Jay Livingston)
"Born of Mary" (Traditional)
"Children's Christmas Song" (Harvey Fuqua, Isabelle Freeman)
"The Little Drummer Boy" (Harry Simeone, Katherine Davis, Henry Onorati)
"My Christmas Tree" (Jimmy Webb)
Side Two
"Rudolph the Red-Nosed Reindeer" (Johnny Marks)
"Santa Claus Is Coming to Town" (J. Fred Coots and Haven Gillespie)
"My Favorite Things" (Richard Rodgers, Oscar Hammerstein II)
"Twinkle Twinkle Little Me" (Ron Miller, William O'Malley)
"Little Bright Star" (Al Capps, Mary Dean)
"Joy to the World" (Traditional)
Unused Additional Tracks
Edit
"The Christmas Song (Merry Christmas to You)" (Mel Tormé, Bob Wells) *
"Jingle Bell Rock" (Joe Beal, Jim Boothe)
"Noël" (Traditional) *
"Silent Night" (Traditional) A *
"Toyland" (Traditional)
"O Little Town Of Bethlehem" (Traditional)
"O Holy Night" (Adolphe Adam) A
"Just a Lonely Christmas" (Alan Freed, Harvey Fuqua) *
"Winter Wonderland" (Felix Bernard-Dick Smith) (Only instrumental track; no vocals recorded)
"Won't Be Long Before Christmas" (Traditional)
[(*) means: later added to the CD album release as a bonus track; (A): means vocals led by Florence Ballard]
Album Personnel
Edit
Diana Ross: lead vocals (except as noted)
Florence Ballard: lead vocals on "Silent Night" and "O Holy Night", background vocals
Mary Wilson: background vocals
The Andantes: background vocals
The Funk Brothers and the Detroit Symphony Orchestra: instrumentation
Harvey Fuqua: producer
Gene Page, H.B. Barnum and Ernie Freeman: arrangements
Chart Performance
Edit
Name
Chart (1965 - 1966)
Peak
position
Merry Christmas
U.S. Billboard Holiday Albums Chart
6