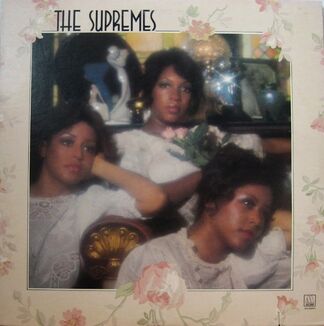 The Supremes is an album by the Supremes. It was released in May of 1975 by Motown Records.
Album Background
Edit
Due to contract disputes, nearly two and a half years passed between "The Supremes" album and the previous Supremes album "The Supremes Produced and Arranged by Jimmy Webb."
During that time, the group's lineup had undergone another major shift.
Jean Terrell and Lynda Laurence both quit the group in August of 1973 and remaining member and founding Supreme Mary Wilson was forced to form a new lineup.
Cindy Birdsong was ready to return to the group after her maternity leave the previous year.
Following a tip from former Supremes producer Lamont Dozier, Mary hired Scherrie Payne as the Supremes' new co-lead singer who maintained the role until the group officially disbanded at a concert in London at the Theatre Royal, Drury Lane on June 12, 1977.
The songs recorded for the album (but not used) include "Can We Love Again", "Bend a Little", the original version of "The Sha-La Bandit" with all three Supremes on leads (including a rare lead vocal by Cindy Birdsong), a cover of Betty Everett's "The Shoop Shoop Song (It's in His Kiss)", "Dance Fever" and "Hey, Mr. Boogieman"."
On May 17, 2011, the entire album was released for the first time on CD on the three-disc set "Let Yourself Go: The '70s Albums, Vol 2 - 1974–1977: The Final Sessions."
Despite the long delay, the first single from the album "He's My Man" became a number-one single on Billboard's disco music charts in 1975.
The song "It's All Been Said Before" was originally chosen as the first single, and assigned a release number by Motown, but it was withdrawn at the last minute and replaced by "He's My Man."
Tracklisting
Edit
Side 1
"He's My Man" (Greg Wright, Karin Patterson) (2:55)
"Early Morning Love" (Harold Beatty, Brian Holland, Edward Holland, Jr.) (3:11)
"Where Is It I Belong" (Samuel Brown, III, Ronald Brown, Elaine Brown) (3:53)
"It's All Been Said Before" (Dennis Lambert, Brian Potter) (2:30)
"This Is Why I Believe in You" (Michael B. Sutton, Pam Sawyer) (3:10)
Side 2
"You Can't Stop a Girl in Love" (Terry Woodford, George Soulé) (2:31)
"Color My World Blue" (Frank Johnson) (2:32)
"Give Out, But Don't Give Up" (Woodford, Clayton Ivey, Barbara Wyrick) (2:33)
"Where Do I Go from Here" (E. Holland, Jr., B. Holland) (3:29)
"You Turn Me Around" (Barry Mann, Cynthia Weil) (2:30)
Chart Performance
Edit
Name
Chart (1975)
Peak position
The Supremes
U.S. Billboard 200
152
U.S. Billboard R&B Albums Chart
25
Album Personnel
Edit
Scherrie Payne: lead and backing vocals
Mary Wilson: lead and backing vocals
Cindy Birdsong: backing vocals
Terry Woodford, Clayton Ivey, Brian Holland, Hal Davis, Greg Wright, Michael Lloyd, Mark Davis: producers