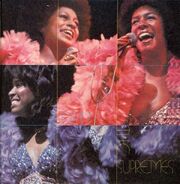 The Supremes Live! In Japan is the title of a live album that "The Supremes" recorded during a visit to the Far east in the early summer of 1973. The recording is culled from a performance that the trio completed on June 2, 1973 in Tokyo, Japan. The actual album was issued exclusively in Japan for only a limited time, and was quickly withdrawn. It was not available to the rest of the world until 2004.
The group's line-up at the time of the recording consisted of original group member Mary Wilson, Jean Terrell, and Lynda Laurence. The album was initially slated for release in America following its completion, but internal conflicts within the group, and the departure of both Terrell and Laurence from the group in August of that year, resulted in the shelving of the project. The cover of the original album was utilized instead for a United Kingdom "Greatest Hits" package that was released later in 1974. That LP was compiled of recordings from between 1970 and 1973. The album was issued by Hip-O Select Records on October 31, 2004 as a limited edition CD release, as was "The Temptations in Japan."
Tracklist
---
"Introduction"
"T.C.B."/"Stop! In The Name of Love"
Medley: "For Once In My Life"/"I'll Take You There"/"Cabaret"
"Stoned Love"
Medley" "Can't Take My Eyes Off Of You"/"Quiet Nights, Quiet Stars"
New Hits Medley: "Floy Joy"/"Automatically Sunshine"/"Nathan Jones"/"Up The Ladder To The Roof"
Hits Medley: "Reflections"/"Where Did Our Love Go?"/"Baby Love"/"My World Is Empty Without You"
"Bad Weather"
"Cherry Pie"
"Tossin' & Turnin'"
"Somewhere"
Community content is available under
CC-BY-SA
unless otherwise noted.