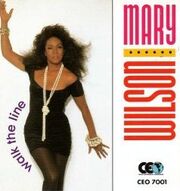 Walk the Line is Mary Wilson's second solo album.
The album was released in 1992 by CEO Records. It was Mary's first solo album to be released since her 1979 debut album "Mary Wilson."
Album Background
Edit
In 1980, Mary began working on her second solo album, working with English record producer Gus Dudgeon.
Gus produced four tracks for the album, but Mary was dropped by Motown Records before the album was completed.
After she left Motown, she almost signed with Atlatnic Records in 1987, but the label cancelled the deal.
In 1990, Mary signed with Nightmare Records (which later became Motorcity Records) and recorded & released a cover version of the Five Stairsteps' hit song "O-o-h Child," but never recorded a full album for the label.
A year later, she signed with CEO Records.
Tracklist
Edit
"Walk The Line"
"The Stare"
"You Keep Me Hangin' On"
"One Night With You"
"All Over Now"
"Ooh Child"
"Under Any Moon"
"Shelter Me"
"Bodyguard"
"I Am Changing"
Chart Performance
Edit
A day after the album was released, CEO Records went into bankruptcy.
Mary later claimed that she had no knowledge of the label's financial troubles and stated that she was coerced into signing with them for the release.
Because of the bankruptcy issue with the label "Walk the Line" fell out of place on the Billboard charts despite Mary's promotional efforts.